New Pioneer AV Receivers with App Radio Live
Pioneer Gulf FZE -A leader in aftermarket car audio, today launched its 2016 multimedia and TV receivers, bringing FLAC lossless audio support, Spotify and other exciting features to connected car entertainment.
Eight new multimedia receivers are available in different form factors and screen sizes: Under the double-DIN category are the AVH-X5850BT and AVH-X4850DVD boasting a massive 7-inch display, while the AVH-X2850BT, AVH-X1850DVD, AVH-285BT and AVH-185DVD come with a 6.2-inch screen. The 1-DIN AVH-X7850BT and AVH-X6850BT, on the other hand, pack a space-saving design using a retractable slide-out 7-inch screen. All these models are also compatible with the latest GEX-2850DVB2 Dual Diversity DVB-T2 TV receiver.
"Online music and digital TV broadcasts are now becoming widely available, including lossless audio formats like FLAC, which is highly sought after by audiophiles. Our new Pioneer multimedia receivers have been developed to leverage this trend, providing a seamless in-car entertainment experience that is both intuitive and immersive," said Mr. 'Muralidhar Masala, General Manager, Product Planning & Marketing Department, Pioneer Gulf FZE.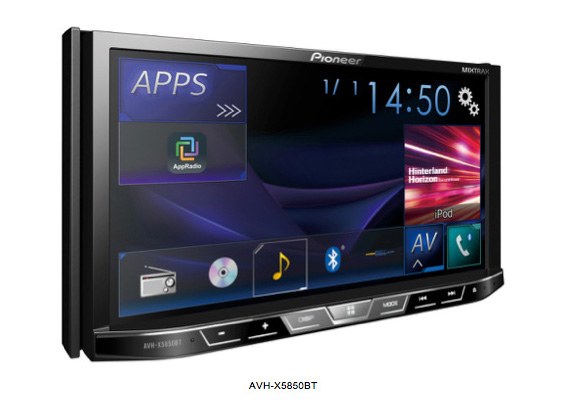 The following key enhancements are available for the 2016 models:
BETTER THAN CD-QUALITY MUSIC
FLAC lossless audio support lets both drivers and passengers enjoy higher-quality music play back, which is sonically superior compared with MP3 and CDs. Not only can FLAC retain all the nuances and dynamism of an original studio recording, it also packs a significantly higher resolution for enhanced clarity – at up to 24-bit/48KHz for the 2016 Pioneer multimedia receivers.
1Only for AVH-X5850BT, AVH-X4850DVD, AVH-X2850BT, AVH-X1850DVD, AVH-X7850BT and AVH-X6850DVD.
2Only for files stored in USB thumb drive.

In terms of file size, FLAC is 50% to 60% smaller than uncompressed WAV files, allowing more songs to be fitted into the same USB storage devices and smartphones.
ACCESS MILLIONS OF SONGS VIA SPOTIFY
A ubiquitous USB (iOS) or Bluetooth (Android) connection is all that is required for Spotify to work with compatible smartphones on Pioneer's new 2016 multimedia receivers. Once connected, users in Singapore, Malaysia and Philippines can access over 30 million songs on Spotify; users can conveniently browse, search and select songs directly from either the receiver or phone.
CLEARER, WIDE-ANGLE SCREEN
Now equipped with an improved ClearType resistive touchscreen promising better visual quality, users will be able to operate the head unit, play movies or navigate effortlessly and clearly at most viewing angles and under bright daylight conditions. As part of the overall screen upgrade, the wallpaper has been updated with refreshingly new graphics as well.
DIRECT CONTROL AT YOUR FINGER TIP
Steering wheel control module lets drivers safely operate the receiver, including answering phone calls, without taking their hands off the steering wheel. What's more, holding the on-board mute button can further activate a nifty voice recognition function
MARKET-LEADING SMARTPHONE INTEGRATION
The following are more innovative features of Pioneer receivers to take full advantage of the latest smartphones:
AppRadio Mode and AppRadioLIVE8
– Pioneer's free application to view and control third-party utilities, navigational aids and social networks installed on iOS and Android smartphones, utilising the receiver's touchscreen. AppRadio Mode is also compatible with AppRadioLIVE, which aggregates maps, music, news and events into four interactive quadrants on screen.
MIXTRAX
– Pioneer's revolutionary MIXTRAX® virtual DJ technology transforms a music library into a nonstop DJ mix, inserting transitions and effects automatically to string together tunes from an iPhone, iPod or USB storage device. To truly recreate a club experience, users can also set the illumination and display to pulsate and change colour, according to the tempo and intensity of the music.
Comprehensive Bluetooth functions
– All Bluetooth-enabled Pioneer receivers feature Two-Phone Bluetooth Pairing capability, allowing up to two phones to be connected simultaneously for hands-free voice calls. With Wireless Audio Browsing, drivers can also search their music library via the head unit display without touching their iOS and Android smartphone, providing greater user convenience and a safer drive.
The new 2016 Pioneer Multimedia and TV Receivers will be available at Pioneer authorised dealers from November 2015.
Additional notes:
iRead the product's operation manual as well as all instructions and cautions provided with the Pioneer ARC app and available content before use.
iiDo not use your Pioneer system if doing so will divert your attention in any way from the safe operation of your vehicle. Always observe safe driving rules. In some countries, certain operations of devices while driving may be illegal. Where such regulations apply, they must be obeyed.
iii Pioneer does not guarantee compatibility with all USB mass storage devices and assumes no responsibilities for any loss of data on media players, smartphones, or other devices while using the receiver.
ivBluetooth® functionality requires a compatible Bluetooth-enabled mobile phone. Certain Bluetooth features may not be supported by all compatible Bluetooth-enabled devices, and/or the functionality of such features may be limited in certain devices or by certain wireless carriers.
vPioneer CD and Digital Media Receivers are for selected Android smartphones only. Compatibility varies by Android smartphone. Please check with local Pioneer authorised dealers for more information.
viPIONEER and MIXTRAX are registered trademarks of Pioneer Corporation.
viiApple®, iPhone® is a trademark of Apple Inc., registered in the U.S. and other countries.
viiiAndroid™ is a trademark of Google Inc.
ixIOS® is a trademark or registered trademark of Cisco in the U.S. and other countries and is used under license.
x BLUETOOTH® is a registered trademark of Bluetooth SIG, Inc.

About Pioneer Gulf FZE Ltd
The Middle East arm of Pioneer Corporation, Pioneer Gulf FZE, (PGF)'s core business covers the audio and video industries with a diversified range of products in the Car Entertainment Arena. In line with the corporate group philosophy " Move the heart and Touch the soul ", PGF aims to continuously touch people's lives by introducing innovative products that will raise entertainment to the level of pure emotion.
For more information, please visit www.pioneer-mea.com