New Pioneer D-Series Speaker delivers sonic excellence and performance with latest Twaron® technology
Pioneer Gulf FZE – Pioneer Electronics, the leader in automotive speaker technology, today releases its next generation D-Series TS-D1730C which aims to provide pleasure to driver and passengers with the ultimate in-car sound. The new package consists of a high-performance model that employ new technologies such as the usage of new materials for a newly-developed speaker cone that makes for an immersive audio experience, while greatly improving their installation flexibility.
"Absolute fidelity to musical sources takes form from speakers that reproduce the ambience in which sounds originate, and are brought to life. The new D-Series TS-D1730C leverage on the latest Twaron technology to reproduce a wide range of frequency, delivering accurately detailed sound reproduction for the listening pleasures of both drivers and passengers", said Mr. 'Muralidhar Masala, General Manager, Product Planning & Marketing Department, Pioneer Gulf FZE.
The new D-Series TS-D1730C are built on the "Open & Smooth" Sound Concept of Pioneer's industry-leading PRS speakers1. Open staging and sound characteristics enhance the widening effect that extends way beyond the space between speaker to create an audio experience that surrounds you, and the smooth transitions betweenmid-bass and tweeter will provide sound that is not marred by crossover frequency dips.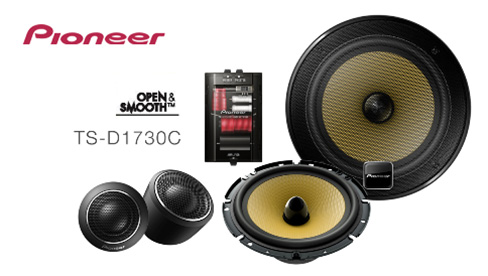 Twaron® Aramid Fiber Cone and Elastic Polymer Surround
Using newly developed, high-performance Twaron™ aramid fiber cone for woofers with elastic polymer surround, this offers stiffer dampening with quicker response. As a result, the new generation TS-D1730C can deliver accurately detailed sound reproduction with a wider frequency range for deep and bold bass sound.
Ultra-lightweight Soft Dome Diaphragm
Pioneer speakers always maintain more open, smooth, expansive, multidimensional sound, without the dramatic dips and inconsistencies that lesser speakers can produce. With a 38mm diameter and a mounting depth of 13mm, the tweeter is developed with ultra-lightweight Soft Dome Diaphragm to produce exceptionally open and smooth sound quality with silky reproduction of higher frequencies. In addition, the tweeter is designed with a larger rear chamber and rounded over flange, for extended frequency range and wider dispersion.
1Pioneer Reference Series (PRS) includes Pioneer TS-C172PRS, TS-W252PRS and TS-S062PRS. Please check with Pioneer's local offices for availability at selected authorised dealers.
Easy, Fuss-Free Installation for Different Car Models
Without compromising sound, the new compact crossover on the TS-D1730C have been redesigned with high quality components, a selectable, + or – 3dB, tweeter level switch, and inline speaker leads. Small enough to fit inconspicuously in many doors, the crossover also includes speaker leads for the amplifier input and both tweeter and woofer outputs.
The D-Series Speaker comes with 3-style brackets include16cm and 6"x9" installation plates. The component package offers multiple tweeter mounts and installation adapters to fit in some of the most popular, top selling vehicles.
The woofer mount adapters included in the TS-D1730C package is a universal mount plate that is pre-scored with the proper cut-out lines to match the shape of the factory speaker in major cars like Toyota® and Honda®.
The model is available in the following size:
TS-D1730C: 17 cm 260w/60W, 2way Component Speaker Package
Pioneer's TS-D1730C D-Series Component Speaker Package is available at Pioneer authorized dealers from April 2015.
For more updates on these products, please visit the Pioneer Car Entertainment Facebook page at https://www.facebook.com/PioneerCarEntertainment/.
PIONEER is a registered trademark of Pioneer Corporation.
TWARON is a registered trademark of Teijin Aramid BV.
TOYOTA is a registered trademark of Toyota Motor Corporation.
HONDA is a registered trademark of Honda Motor Co., Ltd.
All other brands, product names, or logos may be trademarks or registered trademarks of their respective holders.
About Pioneer Gulf FZE Ltd
The Middle East arm of Pioneer Corporation, Pioneer Gulf FZE, (PGF)'s core business covers the audio and video industries with a diversified range of products in the Car Entertainment Arena. In line with the corporate group philosophy " Move the heart and Touch the soul ", PGF aims to continuously touch people's lives by introducing innovative products that will raise entertainment to the level of pure emotion.
For more information, please visit www.pioneer-mea.com