New Pioneer Speakers and Amplifier promise superior Sonics and durability
Pioneer Gulf FZE, Pioneer Electronics- A leader in aftermarket car audio, today released its latest A-Series speakers and Champion-Series amplifier, promising greater sound quality, durability and set-up flexibility.
The 2016 line-up consists of nine models, boasting a maximum music power handling from 300W to 650W – the TS-A1606C and TS-A1306C component speaker packages with tweeters, woofers and crossover, plus the TS-A6996S, TS-A6986S, TS-A6976S, TS-A6966S, TS-A1686S, TS-A1676S and TS-A1376S standard (coaxial) 3- to 5-way speakers. Also available is the new GM-D9605 Champion-Series amplifier, Pioneer's first 5-channel kit with Class FD technology.
"Hi-Res Audio files and high-quality music sources have significantly higher detail and clarity, which are often lost when played back through lacklustre car stereos. Our new A-Series speakers and Champion-Series amplifier are developed to faithfully reproduce every nuance of a sound track, regardless of the music genre and volume level for a truly engaging listening experience," said Mr. 'Muralidhar Masala, General Manager, Product Planning & Marketing Department, Pioneer Gulf FZE.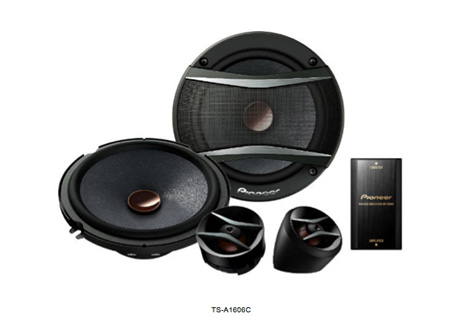 The following are the key enhancements for these 2016 products:
IMPACTFUL TUNES – HIGH DYNAMIC RANGE
Now with an increased dynamic range and linearity, users will be able to hear and feel deeper bass, in addition to smoother and extended treble.
The accurate reproduction of lower frequency notes is made possible thanks to a more rigid Multi-layer Mica Matrix (MMM) woofer cone, which is employed throughout the entire range. The TS-A6996S and TS-A6986S also feature an improved high-frequency tweeter, leveraging a new Direct Drive Diaphragm (DDD) technology.
PLAY TUNES LOUD, WITHOUT SOUNDING HARSH
The TS-A6996S, TS-A6986S, TS-A6976S, TS-A6966S and TS-A1676S can handle up to 10 percent more power than their predecessors, enabling a higher peak reproducible volume at minimal distortion.
ATTRACTIVELY STYLED AND MADE TO LAST
Complementing the stylish design of these speakers is a new full-face mesh grille, used by the TS-A6996S, TS-A6986S, TS-A6976S and TS-A6966S to prevent dust from entering the units, which can damage the internal components.
A PERFECT MATCH FOR THESE SPEAKERS
The GM-D9605 Champion-Series amplifier offers an unparalleled level of flexibility, easily configurable to either 2 or 4 channels with both line-level speaker and pre-out audio input. Besides supporting up to 4 speakers, it is also equipped with a dedicated subwoofer (sub) output and variable low-pass filter, ensuring a seamless integration of the speakers and sub.
UNINTERRUPTED TV PROGRAMMES ON-THE-GO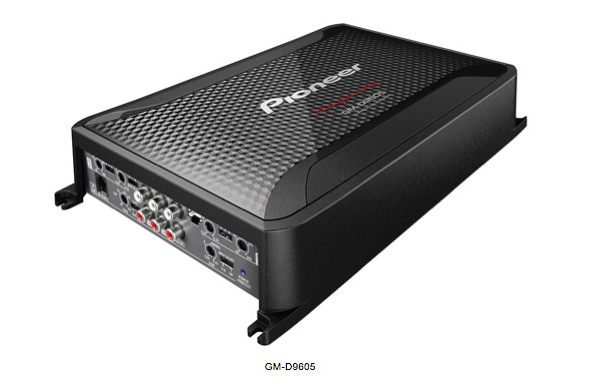 Another highlight is its class FD technology, which is extremely efficient and accounts for the amplifier's compact size, while delivering amazingly high power output.
INNOVATIVE SOUND TECHNOLOGIES
Here are other proprietary Pioneer technologies, which demonstrate the brand's commitment to deliver the finest sound quality:
Speakers
Progressive Flex Suspension System (PFSS)– Originally developed for the flagship PRS-Series, PFSS further enhances bass performance and durability of the TS-A6996S, TS-A6986S, TS-A6976S, TS-A6966S, TS-A1686S and TS-A1606C speakers.
Amplifier
Total Vibration Control (TVC) concept– TVC minimises the detrimental impact of vibration like signal distortion, which is a common issue in an automotive environment and can potentially affect the sound.
Automatic Signal Sensing and Turn-On– Once an active signal has been detected, this function will automatically select the relevant input and switch on the amplifier to initiate music playback.
Protection Control System– Designed to bolster reliability, this system reduces the risk of damage due to an overly high input power, by sensing the internal temperature and moderating the signal on-the-fly.
The new 2016 Pioneer A-Series speakers and Champion-Series amplifier will be available at Pioneer authorised dealers from November 2015.
About Pioneer Gulf FZE Ltd
The Middle East arm of Pioneer Corporation, Pioneer Gulf FZE, (PGF)'s core business covers the audio and video industries with a diversified range of products in the Car Entertainment Arena. In line with the corporate group philosophy " Move the heart and Touch the soul ",  PGF aims to continuously touch people's lives by introducing innovative products that will raise entertainment to the level of pure emotion.
For more information, please visit www.pioneer-mea.com