Pioneer Smart Sync App Compatible
Smooth Hard Key Operation

Navi Key
To launch Navi App.
Rotary Key
To read out text messages.
Press and hold to launch Pioneer Smart
Sync App.
BASS Boost Key
To activate Dynamic Bass Enhancer Effect.
Press and hold to activate Super "Todoroki" Sound Effect.
Phone Key
To answer phone calls.
Press and hold to start voice recognition.
Navi-Guide Voice Mixing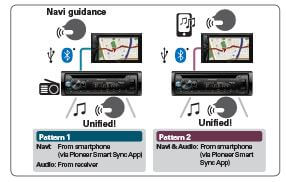 Navi guidance from your smartphone plays through the receiver.
During navi guidance, the music source is automatically attenuated.
Greater Variety of Sound Effects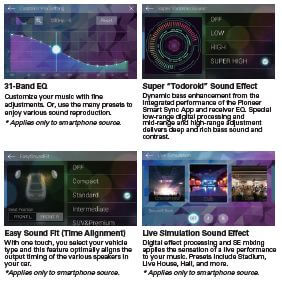 Pioneer Smart Sync App gives you many more ways to enjoy music
than with receiver alone.