Android Quick Charge
Pioneer's AV receiver has a charging downstream port (CDP) providing up to 1.5A to give an Android smartphone a quick charge.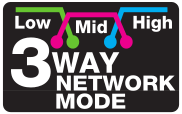 3 Way Network Mode
In addition to a conventional front/rear 4-speaker system, you can build a 3-way multi-amplifier/multi- speaker system and switch between the configurations using Network Mode. Adjust sound in precise detail by optimizing each speaker's output so that the systems sound harmonious, natural and undistorted.