Apple CarPlay
The best iPhone experience on four wheels; Apple CarPlay is a smart and safe way to control your iPhone in the car. Apple CarPlay enables you to make calls, navigate with maps, listen to music, plus send and receive SMS messages.
Some phones may not be compatible with this product. For availability in your country, please visit https://www.apple.com/ios/carplay

Android Quick Charge
Pioneer's AV receiver has a charging downstream port (CDP) providing up to 1.5A to give an Android smartphone a quick charge.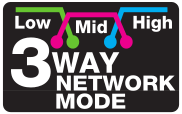 3 Way Network Mode
In addition to a conventional front/rear 4-speaker system, you can build a 3-way multi-amplifier/multi- speaker system and switch between the configurations using Network Mode. Adjust sound in precise detail by optimizing each speaker's output so that the systems sound harmonious, natural and undistorted.