AVH-Z5050BT
In-Dash Double-DIN DVD Multimedia AV Receiver with 7″ WVGA Touchscreen Display, Apple CarPlay, Android Auto, AppRadio Mode+, Built-in Bluetooth and Full HD Video Playback from USB Device.
Enhanced smartphone connectivity, connecting your iPhone and Android phone directly to the headunit with Apple CarPlay, Android Auto and Pioneer's AppRadio Mode+. Ensuring you can use your phone's capabilities while concentrating on the road. The User interface has also been refined with the core design concept of "Simple and Easy", providing more flexibility, easy operation and more engaging user experience. Lastly, experience superior in-car AV performance with 24-bit True Color display panel, Full HD Video playback from USB thumb drive and select Pioneer-tuned audio parts.

Android Quick Charge
Pioneer's AV receiver has a charging downstream port (CDP) providing up to 1.5A to give an Android smartphone a quick charge.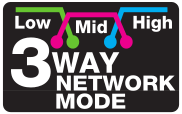 3 Way Network Mode
In addition to a conventional front/rear 4-speaker system, you can build a 3-way multi-amplifier/multi- speaker system and switch between the configurations using Network Mode. Adjust sound in precise detail by optimizing each speaker's output so that the systems sound harmonious, natural and undistorted.