TS-A1600C Cut View
TS-1675V2
Tweeter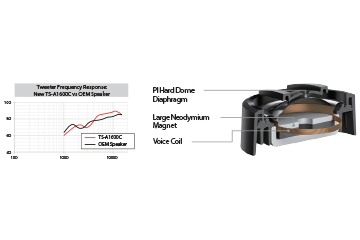 Super-Clear High Frequency Sound: Driven by a large neodymium magnet and the voice coil, the new TS-A1600C's PI dome tweeter achieves outstanding sound quality with especially clear highs.
New Tweeter Adaptor Bracket: New tweeter bracket included for dashboard installation to replace the OEM tweeter.
New Cable Type Network for Wider Installation Capability: Our new cable-type network occupies much less space than case types. While keeping all the same advantages, the installation options are greatly improved
Clean New Look: A design change which removes the lead wire connection from the speaker face gives a clean new look. Even better, this design reduces the risk of shorts and signal noise.
Note: Except for TS-A1670F, TS-A1370F, and TS-A4670F.
Newly Designed Adaptor
TS-1675V2
Based on recent research data, the design of the A series adaptor has been changed to offer only a wider range of installation options, but also higher damping and improved sound.
CarSoundFit App: Experience the improved sound of the New A-Series with the CarSoundFit App.
Car Sound Simulator App for more in-car sound experience. Car Sound Simulator App for more in-car sound experience.
Note: Adaptor included for TS-A1600C, TS-A6970F, TS-A6960F, TS-A1680F and TS-A1670F
Pioneer's Sound Concept: Open & Smooth™
TS-1675V2

Open & Smooth sound concept delivers open staging & smooth transition of driver response to provide the ultimate in-car sound.
key selling points
Fully refined "Simple and Easy"-inspired interface provides more flexible, easy operation and more engaging user experience.
Through the receiver display, you can seamlessly access various audio and video content stored in a wirelessly connected smartphone by using Wireless Mirroring function.
With built-in Wi-Fi, you can use Wireless Apple CarPlay and Android Auto Wireless the best means of operating a smartphone through a car entertaiment system without a connection cable, for greater freedom from clutter and complication.
General
Frequency Response
35 Hz to 20 kHz
Sensitivity ( 1W / 1m )
92 dB
Cut-Out Dimensions
ø128 mm
Pioneer Middle East - Car Stereo, Car Subwoofer, Amplifier
Average rating:
0 reviews