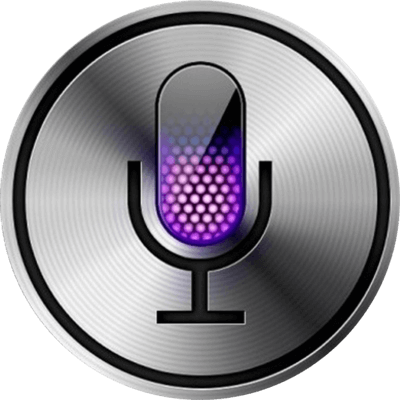 Siri Eyes Free
Siri Eyes Free lets users of compatible iPhone models access various functions to select music, make calls from a contact list, etc., without talking their eyes off the road.

Android Quick Charge
Pioneer's AV receiver has a charging downstream port (CDP) providing up to 1.5A to give an Android smartphone a quick charge.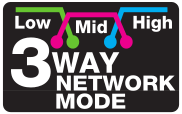 3 Way Network Mode
In addition to a conventional front/rear 4-speaker system, you can build a 3-way multi-amplifier/multi- speaker system and switch between the configurations using Network Mode. Adjust sound in precise detail by optimizing each speaker's output so that the systems sound harmonious, natural and undistorted.

Specialized Audio Parts
Our engineers perform listening tests with expert care to incorporate specially designed parts that make for superior audio quality. Take Pioneer's new receiver. Its high capacitance audio capacitor has particularly strong influence on audio signal input for higher performance sound reproduction. Audio control functions like 5-Band GEQ and LPF/HPF take advantage of electronic circuitry that improves sound quality and minimizes analog signal degradation.

SD Card Slot
Supports SD/SDHC memory card slot.

RDS (Radio Data System)
Plays RDS FM/AM Tuner (24 preset stations).

DIVX Playback
Supports DivX video file playback from CD/DVD and USB.

FLAC (Free Lossless Audio Codec)
New Pioneer AV receiver supports dramatically superior car audio experiences with amazingly brilliant reproduction of sound by FLAC(Free Lossless Audio Codec) files that are 50-60% smaller than WAV files, yet retain the integrity of original sound sources. Characterized by 48KHz sampling frequency and 24-bit bitrate, the sound quality of FLAC file playback exceeds even that of CD playback.

Auto EQ
Auto EQ uses a microphone to monitor and analyse the vehicle acoustics, then automatically fine-tunes all frequencies and also applies digital parametric equalization to the front and rear speakers producing a smoother sounding musical experience.
Key Selling Points
Fully refined "Simple and Easy"-inspired interface provides more flexible, easy operation and more engaging user experience.
Through the receiver display, you can seamlessly access various audio and video content stored in a wirelessly connected smartphone by using Wireless Mirroring function.
With built-in Wi-Fi, you can use Wireless Apple CarPlay and Android Auto Wireless the best means of operating a smartphone through a car entertaiment system without a connection cable, for greater fre
Wireless Apple CarPlayTM
AVH-Z9150BT
Wireless Apple CarPlay is a smarter, safer way to use your iPhone® in the car that allows you to stay focused on the road and get directions, make calls, send and receive messages, and listen to music. Just wirelessly connect your iPhone and go.
Note: Apple CarPlay is available on iPhone 5 or later. For compatibility and available features, please visit the official Apple CarPlay website at http://www.apple.com/ios/carplay/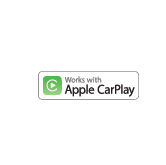 Android AutoTM Wireless
AVH-Z9150BT
Android Auto Wireless creates a seamless wireless experience for drivers by simplifying connectivity in the car.
Android Auto automatically brings you useful information and organizes it into simple cards that appear just when they're needed. It's designed to minimize distraction so you can stay focused on the road ahead.
Note: Android Auto Wireless is available with Android phone running Android 8.1 (Oreo) or higher with a data plan. Availability of Android Auto and Android Auto Wireless may vary depending upon your country and phone model. Please visit android.com/auto for more information.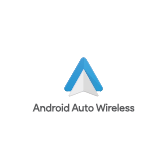 Wireless Mirroring
AVH-Z9150BT
Wireless Mirroring function displays a wirelessly connected smartphone which is compatible with the function on the receiver display, and touch operation of this display makes it easy to share various content stored in the smartphone with other passengers.
Note: Touch operation differs among compatible smartphones.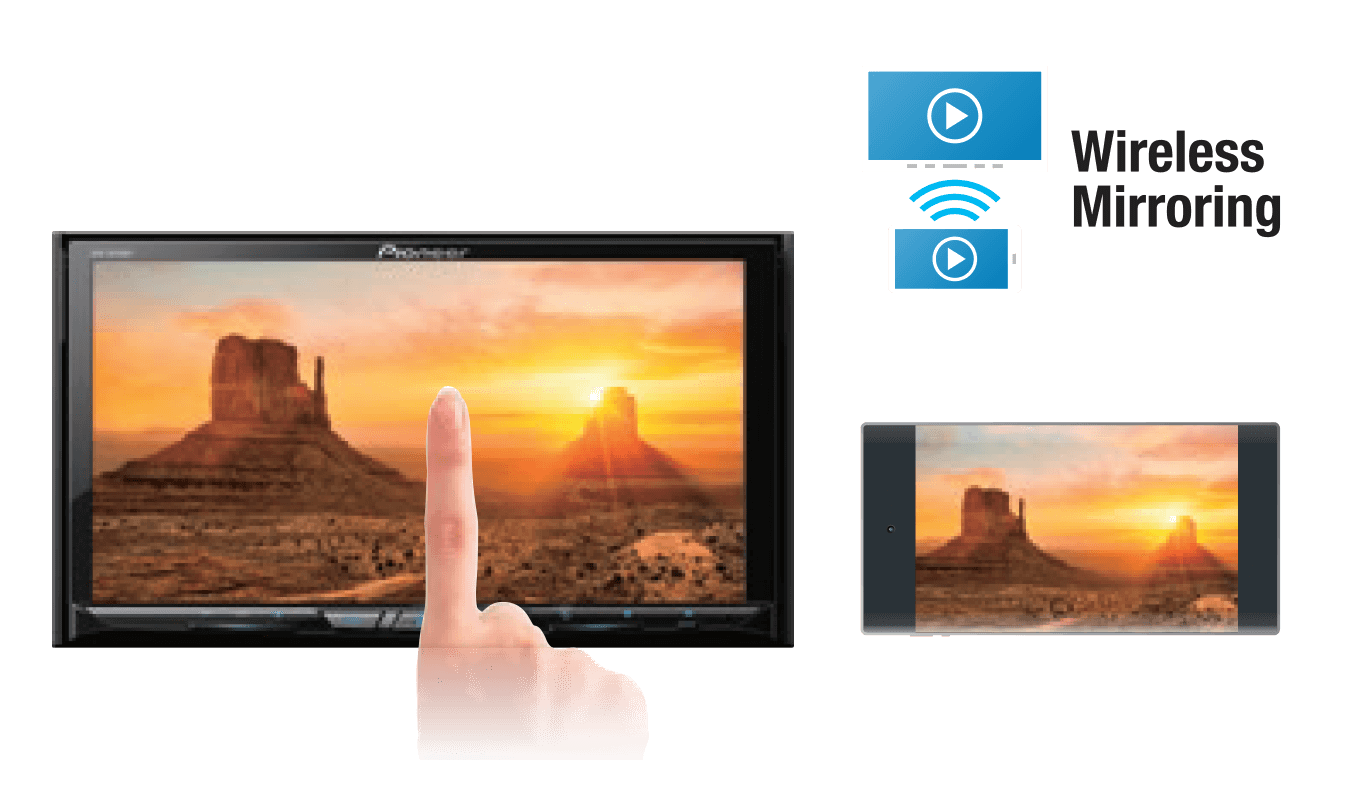 AppRadio Mode +
AVH-Z9150BT
The AppRadio Mode+ of Pioneer AV receivers opens in-car entertainment to a wonderful world of apps to enjoy using iPhone and Android devices.
The AppRadioLIVE App gives you access to all the elements of your digital lifestyle in one place via AppRadio Mode +, so you can even play video from two sources: video stored in your smartphone and streaming video.
Note: Not all Android phones are compatible.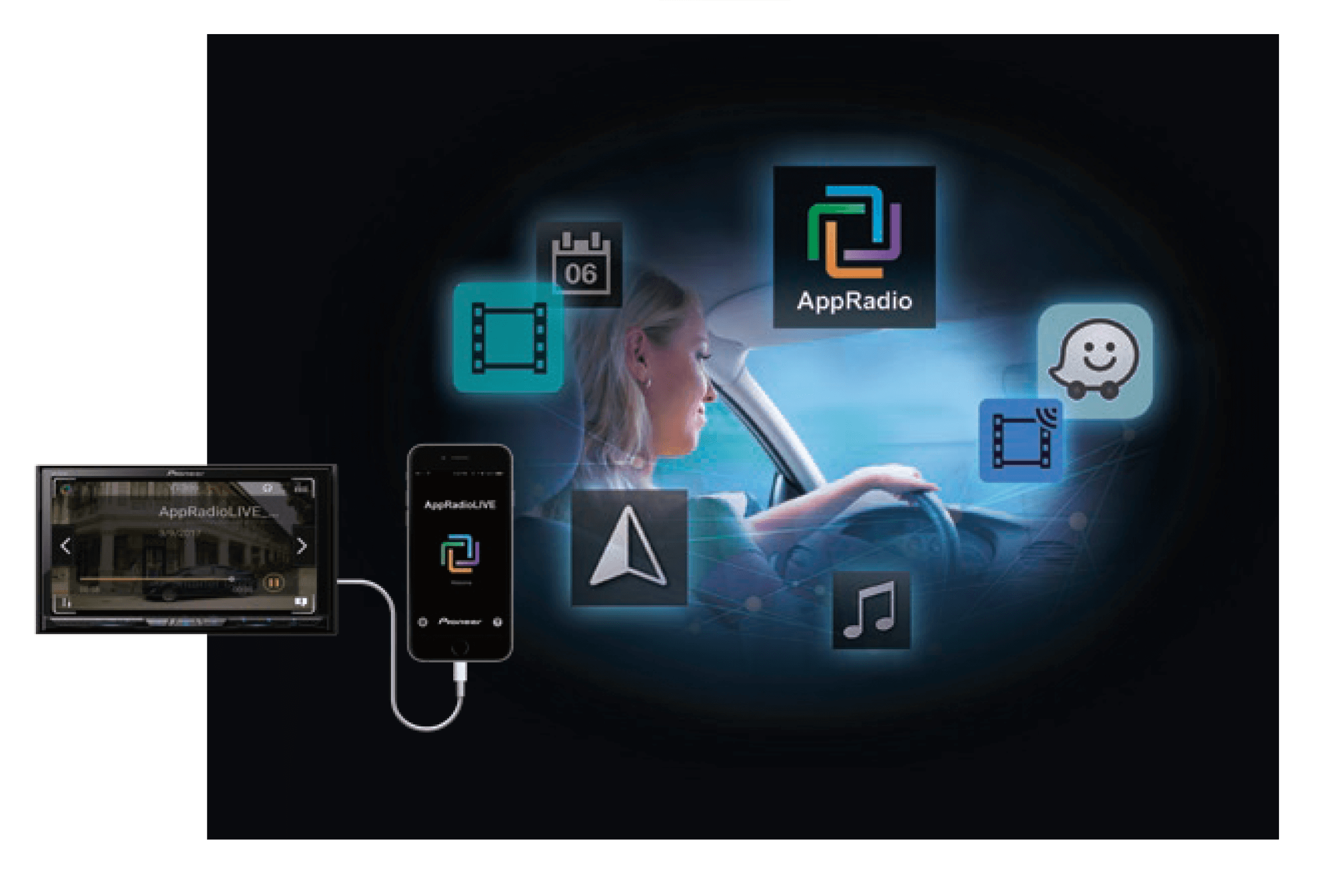 key selling points
Fully refined "Simple and Easy"-inspired interface provides more flexible, easy operation and more engaging user experience.
Through the receiver display, you can seamlessly access various audio and video content stored in a wirelessly connected smartphone by using Wireless Mirroring function.
With built-in Wi-Fi, you can use Wireless Apple CarPlay and Android Auto Wireless the best means of operating a smartphone through a car entertaiment system without a connection cable, for greater fre
Smartphone Integration
Apple CarPlay
Yes (Wi-Fi/USB*1)
Android Auto
Yes (Wi-Fi/USB*2)
Wireless Mirroring
Android*4
Direct Control for iPod/ iPhone
USB/Bluetooth
Direct Control for Certain Android Phones
Bluetooth
Built-in Bluetooth
HFP/A2DP/ AVRCP/SSP/SPP
Smartphone Pairing Memory
20 Devices
Basic Functions
Media Playback
SD / SDHC / SDXC Memory Card Slot
Yes
Full HD Video Playback
USB/SD
Tuner
24 Stations / 6 Presets
Yes
Audio
Built-in Amplifier: MOSFET 50Wx4
MOSFET 50 W x 4
Hi-Volt RCA Preouts
3 (4 V)
D/A Converter
96 kHz/24-bit
Specialized Audio Parts
Yes
Auto EQ & Auto Time Alignment (CD-MC20 Required)
Yes
3-Way Network Mode (High / Mid / Low)
Yes
Advanced Sound Retreiver
Yes
General
Video Input
1 (Audio/Video)
Dual Zone Audio / Video
Yes
Color Customization
5-Display Colors, 112-Key Colors
Parking Assist Guidelines
Yes
Steering Wheel Control Function Expansion
Yes
Detachable Face Security ™
Yes (RD/RI)
Pioneer Middle East - Car Stereo, Car Subwoofer, Amplifier
Average rating:
0 reviews