Pioneer Promises Next Generation in-Car Entertainment Experience that brings connectivity to a whole new level
The flagship AVH-X8750BT Multimedia Receiver is the most feature-packed multimedia receiver ever offered by Pioneer.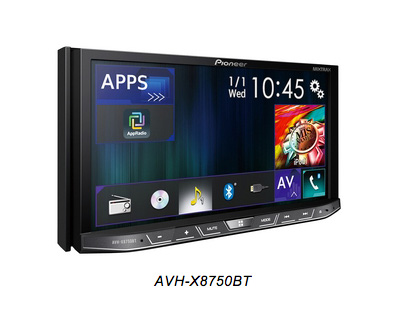 Pioneer Gulf FZE – Pioneer Electronics, a leader in aftermarket car electronics, today announced the launch of its newest flagship Multimedia receiver model – the AVH-X8750BT.
The new generation Multimedia receiver provides expanded smartphone connectivity and enhanced audio and video capabilities on a new clear WVGA touch panel. It is packed with features such as Apple CarPlay™ which offers the smarter, safer and more fun way to use iPhone® in the car; Pioneer's AppRadio® Mode and AppRadio®LIVE, Pioneer's revolutionary app-control technologies that allow users to directly access compatible mobile applications and contents right from the car dashboard. The latest offering also comes packed with Advanced Bluetooth® capabilities, MirrorLink® compatibility and FLAC file playback.
"Pioneer always aims to be the first to deliver innovative products to our customers," said Mr. 'Muralidhar Masala, General Manager, Product Planning & Marketing Department, Pioneer Gulf FZE.

"With AVH-X8750BT, Pioneer is one of the leading manufacturers to implement a wide range of new smartphone integrations into our aftermarket in-dash receivers."
Pioneer's latest generation multimedia receiver offers many new features that bring connectivity, convenience, and audio/video experiences to a whole new level:
AVH-X8750BT offers Apple CarPlay compatibility for enhanced smartphone connectivity.
Apple CarPlay: Pioneer's CarPlay-compatible AVH-X8750BT receiver offers drivers the ability to use their iPhone® in the car. Consumers with the latest version of iOS on their iPhone 5 or later, including iPhone 6 Plus and iPhone 6, can use Siri® voice control to make and receive calls, compose and respond to text messages, access Apple Maps for navigation, and listen to their music, podcasts, iTunes Radio.
AppRadio Mode and AppRadioLIVE
1

MirrorLink compatible Android™ smartphones are connected with Pioneer CD-MU200 accessory cable, sold separately.


2PApple CarPlay compatibility for AVH-X8750BT will available in Australia, Singapore and selected countries from March 2015. For more information regarding Apple CarPlay and its compatible product availability by region, visit http://www.pioneer-carglobal.com/en/CarPlay/ .
Pioneer's latest receiver caters and answers all questions of connectivity. For users in countries who have no access to Apple CarPlay and Android Auto, they can rely on Pioneer's dynamic AppRadioMode and AppRadioLIVE for connectivity with their smartphones.
Pioneer's free and exclusive AppRadio Mode lets users view and control third-party applications installed on their compatible smartphone devices on both iOS and Android platforms directly through each receiver's touchscreen displays.
AppRadioLIVE is a proprietary application developed by Pioneer to provide optimized content access for drivers. It aggregates content through a new interactive interface divided into four quadrants, allowing users to switch between a selection of mapping, music, news information and calendar events apps simultaneously.
Touch Panel Displays Optimised for Smartphone Integration
The new flagship model offers a new, clear WVGA touch panel that provides brighter, more vibrant colours and increased touch sensitivity, making it more responsive than the traditional resistive touch panels.
Advanced Bluetooth Capability
To maximise the connectivity options and call quality for hands-free communication and wireless audio streaming available in today's most popular smartphones, the AVH-X8750BT receiver features Bluetooth AVRCP 1.4 to provide browsing capability of a user's media library and HFP 1.6 with wideband audio for clearer overall sound quality, making it easier to recognise and understand voices during calls.
Superior Audio and Video Performance
Encompassing extensive Playback capabilities, users will never have to compromise on the quality of their favourite shows and songs again. The AVH-X8750BT boasts compatibility with the most number of high-res audio and Full HD video codecs in the market to date. This extensive range of compatible file formats includes MPEG4, H.264 (FullHD), WMV, MKV and FLAC (USB only), eliminating the hassle of file conversions. Pioneer's AVH-X8750BT is the first in the industry to offer playback of files encoded as high-res FLAC up to 192kHz/24 bit and provide playback output at above CD quality.
Speakers are installed with an Auto-Time Alignment feature, so that sound from all speakers reaches the driver's ears in perfect sync. In addition to sound quality, audiophiles will be glad to know that with the unique Advanced Touch slide operation feature, they can bring more flavour to their music with the 13-band graphic equaliser to suit the mood and genre of their best playlists.
Availability:
The Pioneer AVH-X8750BT Multimedia Receiver will be available at Pioneer authorized dealers from March 2015.
3AVH-X8750BT supports an extensive range of iOS® and Android™ platforms for both AppRadio Mode & AppRadioLive.
4Optional cable options.
5iPhone 4® and iPhone 4S® are compatible using a Pioneer CD-IU201S accessory cable, sold separately. iPhone 5®, iPhone 5S®, iPhone 5C®, iPhone 6 and iPhone 6 Plus are compatible through a connectivity kit that requires using Pioneer CD-IH202 accessory cable and the Apple Lighting to Digital AV adapter, both are sold separately.
6Connectivity with selected Android smartphones is available via the CD-AH200 accessory cable kit, sold separately.
7Optional CD-MC20 microphone is required
8Please check with Pioneer's local offices for car models compatible with steering wheel control
Disclaimers:
Do not use your Pioneer system if doing so will divert your attention in any way from the safe operation of your vehicle. Always observe safe driving rules. In some countries, certain operations of devices while driving may be illegal. Where such regulations apply, they must be obeyed.
Pioneer does not guarantee compatibility with all USB mass storage devices and assumes no responsibilities for any loss of data on media players, smartphones, or other devices while using the receiver.
Bluetooth® functionality requires a compatible Bluetooth-enabled mobile phone. Certain Bluetooth features may not be supported by all compatible Bluetooth-enabled devices, and/or the functionality of such features may be limited in certain devices or by certain wireless carriers.
AppRadio app is available from iTunes® App Store and Google Play™. Please use in Internet connection situations. AppRadio App & Compatible Apps may not be available in some countries.
In its bid to provide customers the best, Pioneer constantly seeks out new compatible applications to maximise in-car entertainment. For the updated list of applications available in your country, please refer to AppRadio App, local branches or distributors of Pioneer Car Entertainment.
Pioneer Multimedia Receivers are for selected Android smartphones only. Compatibility varies by Android smartphone. Please check with local Pioneer authorised dealers for more information.

PIONEER and APPRADIO are registered trademarks of Pioneer Corporation.
BLUETOOTH is a registered trademark of Bluetooth SIG, Inc.
Apple, Apple CarPlay, iPhone and Siri are trademarks of Apple Inc., registered in the U.S. and other countries.
MirrorLink is a trademarks of the Car Connectivity Consortium LLC.
IOS® is a trademark or registered trademark of Cisco in the U.S. and other countries and is used under license.
About AppRadio Mode
Pioneer's revolutionary proprietary technology, AppRadio Mode (formerly known as Advanced App Mode) provides in-car connectivity to iPhone® and selected Android smartphone users, allowing them to conveniently and safely integrate their smartphone and apps via Pioneer Multimedia receivers. True to its vision of developing the Connected Car for its users, Pioneer has teamed up with app developers to offer compatibility with many of today's most popular in-vehicle apps, while also developing an increasing catalog of compatible apps for future applications. To use AppRadio Mode, users simply download Pioneer's free AppRadio application onto their iPhone or Android device and connect to a Pioneer AppRadio Mode compatible receiver using the proper interface cable to unlock the power of compatible apps right from the dash of their cars. For more information, please visit www.appradiomode.com
About AppRadioLIVE
AppRadioLIVE is a proprietary app which allows more users to enjoy dynamic content in their cars. AppRadioLIVE is designed especially for users of compatible Pioneer's in-dash receivers. To use AppRadioLive, Android users have to download the AppRadioLIVE and the latest AppRadio apps from the Google Play store and launch it on AppRadio. iPhone® users simply have to download the updated AppRadioLIVE app from the iTunes apps store and launch it directly on the receiver touchscreen. For more information, please visit www.appradiomode.com/appradiolive
About Pioneer Gulf FZE Ltd
The Middle East arm of Pioneer Corporation, Pioneer Gulf FZE, (PGF)'s core business covers the audio and video industries with a diversified range of products in the Car Entertainment Arena. In line with the corporate group philosophy " Move the heart and Touch the soul ", PGF aims to continuously touch people's lives by introducing innovative products that will raise entertainment to the level of pure emotion.
For more information, please visit www.pioneer-mea.com